The Houghton Hotel
A lifestyle destination to those who want to extract only the best Johannesburg has to offer in a prime and secure environment. Being a member of the prestigious 5 star luxury brand, the "Leading Hotels of the World". Differentiated from the rest, it is a uniquely constructed product that showcases great architecture and design allowing for ultimate privacy and convenience, catering to the various segmented groups and individual markets. Corporate and transient business is promoted trough The Hotel's central location to upscale shopping and prime business concerns. Situated between Johannesburg's CBD and Sandton business hub, logistically allowing for convenient B2B travel and only 20 minutes' drive away to the gateway into Africa, OR Tambo International Airport. Vistas overlooking 168 acres of private parkland, it includes jogging paths, outdoor and indoor pools which only enhances the services of the corporate lifestyle, is a space designed to refresh-and-go with private change rooms and showers showcasing The Hotels' fine amenities.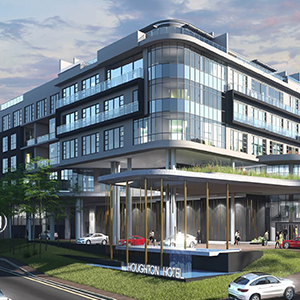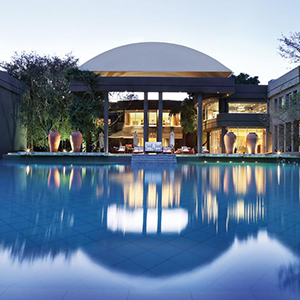 The Saxon Hotel
The Saxon is an exclusive international award-winning Boutique Hotel and Spa located in the beautiful, tranquil suburb of Sandhurst with its tree-lined avenues, which belies its close proximity to Sandton, Johannesburg's upmarket business area.
Emperors Palace (4 Hotels)
This sprawling hotel and casino resort is 4.7 km from the O.R. Tambo International Airport and 14.1 km from the Bill Stewart Municipal Nature Reserve. Rooms offer a simple-but-sleek style, with sketched artwork on turquoise accent walls. They have en suite bathrooms with showers (upgraded rooms add free-standing tubs), flat-screens, and tea and coffeemaking equipment. Breakfast is included. The casino has slot machines and poker tables. Facilities include an outdoor pool, spa treatments and shopping, and on-site restaurants offer international options and fast food. There is also live entertainment, a movie theatre and a cigar lounge.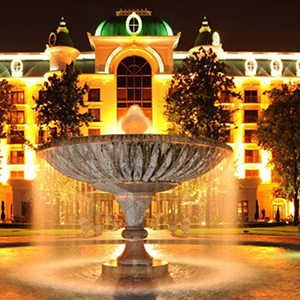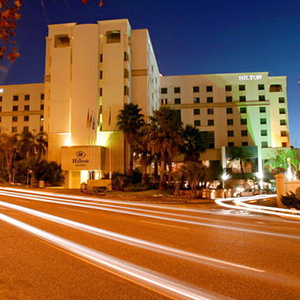 Hilton Sandton
Located just north of Johannesburg, the Hilton Sandton hotel is an ideal base for business or holiday travel to South Africa. Hilton Sandton offers modern accommodations with city or garden views. Choose from guest rooms or spacious suites
Monte Casino
Is a leisure and casino complex covering 26 hectares of land located at No.1 Montecasino Boulevard Fourways Sandton, Gauteng, South Africa. It was designed by American company Creative Kingdom Inc. and built by South African architects Bentel Associates International at a cost of R1.6 billion. It first opened its doors on 30 November 2000 and it currently attracts over 9.3 million visitors annually. It is themed after Monte Casino. and has been meticulously designed to replicate an ancient Tuscan village. The main casino building has a fake sky, painted on the ceiling, inside going from light on one side to dark at the other.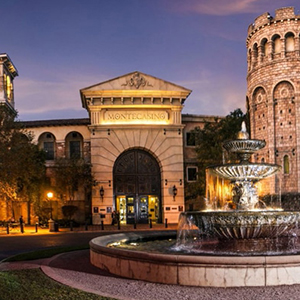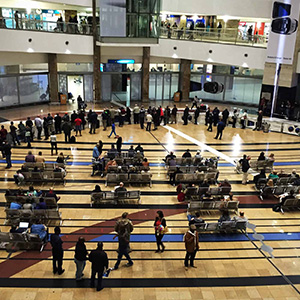 O R Tambo International Airport
Is a major international airport in Kempton Park, Ekurhuleni, Gauteng, South Africa, near the city of Johannesburg and, to a lesser extent, the executive capital Pretoria. It serves as the primary airport for domestic and international travel to/from South Africa and is Africa's busiest airport with a capacity to handle up to 28 million passengers annuallywith non-stop flights to all continents except Antarctica. The airport is the hub of South Africa's largest international and domestic carrier, South African Airways (SAA), and a number of smaller local airlines. The airport handles over 21 million passengers a year.
Rand Airport & Grand Central Airport (Public & Private Jets)
The airports host air charter operators, flying schools and a number of aircraft maintenance organisations, as well other aviation-related enterprises. These airports have the ability to host private jet liners and VIP operations.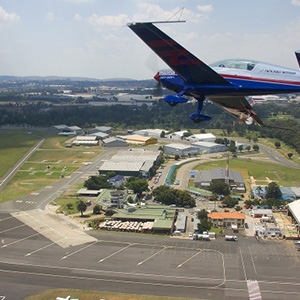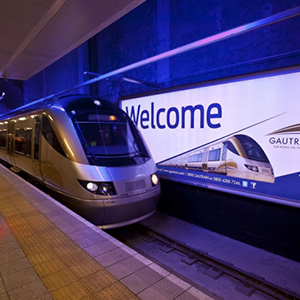 Gautrain
is an 80-kilometre (50 mi) commuter rail system in Gauteng, South Africa, which links Johannesburg, Pretoria, Ekurhuleni and O. R. Tambo International Airport. It was built to relieve the traffic congestion in the Johannesburg – Pretoria traffic corridor and offer commuters a viable alternative to road transport, as Johannesburg has limited public transport infrastructure. The project was completed with the opening on 7 June 2012 of the final section between Rosebank and Johannesburg Park Station